Click to user support site for NISSAN GT-R NISMO GT3




GT3 is a category of racing cars created by FIA (Federation Internationale de l'Automobile) for grand tourer racing. Many automotive manufacturers participate in races based on GT3 regulations with their specially designed racing vehicles using specified parts. Many sports car manufacturers such as BMW, Porsche, Aston Martin, Lamborghini, Mercedes-Benz, and Audi develop racing vehicles for this category. Due to the rapid global increase of GT races for the FIA GT3 category, you can witness the NISSAN GT-R NISMO GT3 in action all over the world.
---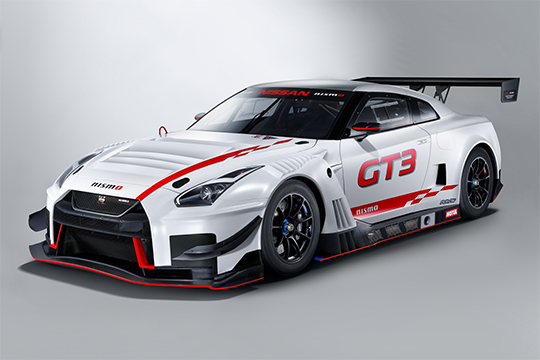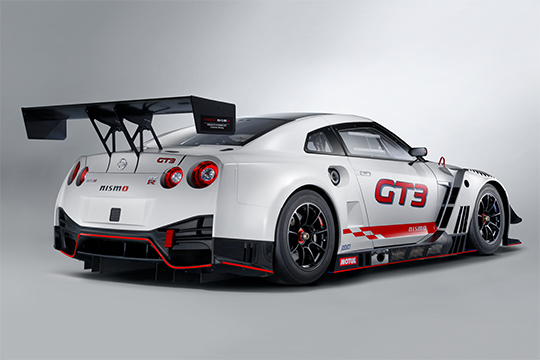 The newly released NISSAN GT-R NISMO GT3 2018-Spec engine (VR38DETT), modified from the 2015-Spec, generates a mmaximum power of 405 kw or greater (550 PS or greater) at 6,500 rpm and maximum torque of 637 N・m or greater (65.0kgf・m or greater) at 5,000 rpm with its total displacement of 3,799 cc. It comes with a six-speed sequential transmission, semi-automatic paddle shift, ABS, and TCS as standard equipment, and both front and rear suspensions are independent double wishbone types.
Incidentally, since the 2015-Spec, the engine specification as well as the overall length, wheelbase, tread, and weight have been changed.
* Varies based on performance adjustments governed by FIA.

We supply engines that match the needs of our customers including chassis constructors, customer teams, and series organizers, taking advantage of being a group company under Nissan which offers a broad
range of products, starting from high performance sports cars GT-R to compact car
---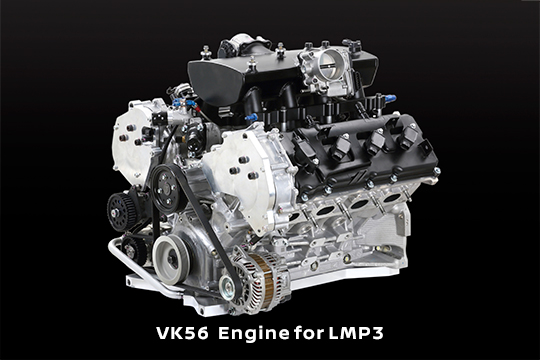 We supply racing engines for various prototypes and offer technical support.


NISMO has been supplying the NISSAN GT-R NISMO GT3 as racing cars under FIA GT3 regulations as part of our customer racing GT3 program. GT3s have participated in numerous race series in Japan, Europe, Americas, Australia, and China. In addition to the SUPER GT GT300 class and Super Endurance GT3 division, they have participated in multiple global races such as the Blancpain Endurance Series and British GT Championship, winning the Bathurst 12 Hour in Australia.
For this season, we have supplied NISSAN GT-R NISMO GT3s and FAIRLADY Z NISMO RCs as well as provided technical support to the teams through our customer racing program. We also supply racing engines for prototype cars as well as provide technical support.

For the 2018 season, we will supply new NISSAN GT-R NISMO GT3s which have evolved into the 2018-Spec to our official GT3 partner teams GAINER, KCMG, and RJN Motorsport.
GAINER will participate in the SUPER GT GT300 class while KCMG will participate in the Brancpain GT Series Asia with two GT3s each. RJN Motorsport will participate in the Brancpain GT Series Endurance with a single NISSAN GT-R NISMO GT3 of the 2018-Spec.

The NISSAN GT-R NISMO GT3 of the 2015-Spec will also participate in the SUPER GT GT300 class. A total of three NISSAN GT-R NISMO GT3s of the 2015-Spec will participate in the Super Endurance Series ST-X class. They aim to reclaim the series title.

For 2018, we will continue to supply VK50 engines for racers competing in the LMP3 category races all over the world. In addition, for the US IMSA WeatherTech Sportscar Championship, VR38 engines based on the GT3 spec will be supplied. We will also supply VRX30A evo. to a customer team in the LMP1 class of the FIA World Endurance Championship (WEC).