NEWS 2007.11.21 2007 Super Taikyu Champion!
The #3 Endless Advance, a Fairlady Z Version NISMO Type 380RS-Competition competing in the 2007 Super Taikyu Series took the championship with five wins during the season. A full Super Taikyu report can be found here

The Fairlady Z Version NISMO Type 380RS-Competition is a production race-exclusive car that is representative of the Super-Taikyu Series, and is being targeted for sale to race entrants (built-to-order; direct sales by NISMO).
The 3.8-liter racing engine in the 380RS-C develops maximum power of more than 294Kw (400PS), and maximum torque of 421N•m (43.0 kg-m). The engine is controlled by a special MOTEC ECM. In addition, it is equipped with a six-speed cross-transmission, reinforced clutch, mechanical L.S.D., Brembo 6-piston calipers and 380mm brake rotors. To reduce weight, the doors and hoods are carbon fiber and door and back windows are polycarbonate. The 380RS-C comes equipped with roll cage, bucket seats, safety harness, fire extinguisher, cutoff switch, a 95-liter safety gas tank and other safety features—the car has the specifications so that it can be racing immediately after purchase.

Two 380RS-C cars are racing in the 2007 Super Taikyu Series (ST class 1): the #3 Endless Advan Z of the Endless Sports team, and the #23 Car Channel Advan Z33 from the C-Westlabs team, competing against the Porsche 911T and BMWZ4 Coupé. Strongly connected to the 380RS-C—activities we hope will gain wide recognition.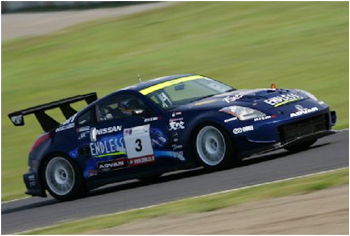 #3 Endless Advan Z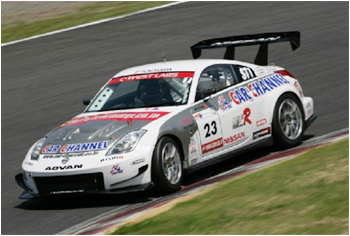 #23 Car Channel Advan Z33