This oil was developed for high performance and competition driving. Please be sure to change your oil every 3,000 kilometers.


[Original development concept]
Type 2189E (75W140) delivers the same dynamic viscosity as a 190 grade oil while providing a base grade of 75W. It is an ester compound, 100% synthetic oil, with outstanding low temperature properties.
An oil with a viscosity (or hyper-viscosity) of 190 has greater resistance to stirring and this raises oil temperatures. But at the same time, without hyper-viscosity, the maintaining of film strength at high temperatures is impossible.
The basic development concept for Type 2189E (75W190) Competition Motor Oil was to keep the benefits of hyper-viscosity while seeking to diminish resistance to stirring.
* How about a 250 grade oil?
Generally, 250 grade oil achieves hyper-viscosity through the use of additives. Once it is run at high temperatures exceeding 150℃, this viscosity will decrease. After the first temperature peak and cool-down, its actual dynamic viscosity will have fallen to a 140 grade and continue to be so. This is why NISMO and MOTUL chose not to use 250 grade oil.
[Superior dynamic viscosity]
Because this oil's internal friction does not vary greatly with changes in temperature, LSD operation will remain stable. Even when racing, the driver should feel no change in performance. 75W140 Competition Oil has also shown excellent plate anti-judder properties.
Performance at a NISSAN GT-R(R35) road test carried out by NISSAN MOTOR Co., Ltd on the Nurburgring track clearly demonstrated the stabilizing effect of 75W140 Competition Oil on LSD operation. Drivers reported specifically that "the chattering of the LSD was reduced".
From the outset of their development of Competition Motor Oils, including the original Veruspeed LSD Oil (no longer marketed), NISMO and MOTUL have run both test course and racing circuit tests on their samples, using current benchmark oils as controls. In order to check for stick-slip chattering, sample oils were brought up to 150Āé where their lubrication properties are lost. *1
NISMO and MOTUL have modeled their evaluation tests to recreate every aspect of the high-load environment in which the oil will be used. In one test series, lubricant testing equipment borrowed from the iron manufacturing business was used to evaluate lubrication properties at temperatures up to 230℃. This extreme testing method opened the way to achieving greater stability for dynamic viscosity (É ). Not only were development targets reached but a rich fund of information for future development was accumulated. *2
Starting with 100% synthetic oil, MOTUL uses its know-how in mixing esters and nitrogen additives. The result is an oil whose viscosity rivals 190 grade oil while retaining excellent flow at cold-start. Its dynamic viscosity is superlative for stable performance.
*1 Testing follows NISMO standards.
*2 Oil temperatures are brought up to approximately 200℃ in actual vehicle testing, but automotive lubricating oil bench tests in the laboratory do not measure temperatures above 150℃.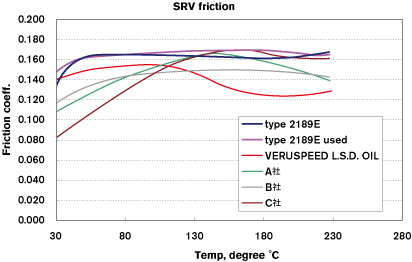 * For Type 2189E (75W140), tests were done both with new oil and with used, deteriorated oil.
Ā@For all other oils, the tests were executed with fresh oil only.
[ Genuine oil for the Nissan GT-R(R35) ]
Type 2189E (75W140) is appointed as NISSAN genuine differential oil for the NISSAN GT-R (R35) 2012 and the later model. Besides, since this oil is specified as a vehicle warranty applicable differential oil for the models before 2012, NISSAN MOTORĀfs vehicle warranty is applied for the use for NISSAN GT-R (R35).
Please change your motor oil after 3,000 kilometers of high performance driving or 10,000 kilometers of normal road use.


SAE viscosity: 75W140
Ester-based 100-percent synthetic oil
API Equivalent: API GL-5

| Part | Part no. | Price | Part information |
| --- | --- | --- | --- |
| COMPETITION OIL type 2189E(75W140) (20L) | KLD75-RS43P | - | Differential oil, 20L |
| COMPETITION OIL type 2189E(75W140) (1L) | KLD75-RS431 | - | Differential oil, 1L |

This oil was developed for high-intensity competition driving. Please note the following two points before using this oil:
1. Except in the case of the Nissan GT-R (R35), this product is not covered by Nissan Motor Co., Ltd. warrantees.
2. When this oil is used, it should be changed every 3,000 kilometers.
When purchased as an imported product, we cannot accept claims for small dents or scratches to the Plastic container.

Tests conducted by Nissan Motor Company have confirmed that this oil surpasses the former Veruspeed L.S.D. Oil in quality. Take this value as a suggestion for handling oil changes during normal, street driving use. For competition driving, the standard oil change is once every 3,000 kilometers.
20L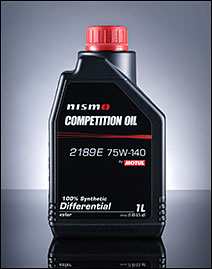 1L