The 400R. Based on the Skyline GT-R, and filled with the racing experience and sport option development experience of racing specialist company NISMO to answer the desires of GT-R fans.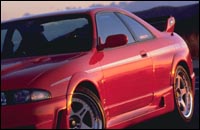 Races have been held since long before the GT-R came around. We planned our strategies for wining races, and through a great number of victories, and our continued experience on the street as well, kept developing towards a truly unique vehicle. That thoroughbred NISMO lineage has now extended through several generations, and has resulted in a creature for today. It's driven by a 2,800cc heart, with a truly NISMO set-up of suspension, twin-palate clutch, reinforced powertrain with carbon driveshaft, reinforced brakes, the solid footing of 18-inch 10J wheels, an intense H.I.D. lighting system to pierce the darkness, and a host of other systems and NISMO technologies.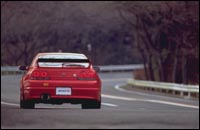 The concept was to provide a feeling of instant driving response exactly as the driver intends-and we're confident that we have succeeded. Add to this the pride of owing a 400R, and the many different kinds of enjoyment that come with driving this kind of vehicle. Take your time and really experience it.
It wasn't simply a matter of building a car that boasts high-power, however. Roads don't only travel in a straight line. We wanted a car that could pull proudly up to a hotel door, one that could travel down city streets or tree-lined, winding country roads and still give it all on the circuit.

There's one car that brings it all together-the NISMO 400R.