The exclusive 3.8-liter engine mounted in the 380RS is a detuned, street version of the racing engine used in the 380RS-C. The engine displacement remains the same, while the intake manifold and exhaust, air-fuel ratio, ignition timing, VTC and other specs have been optimized for street use. The biggest plus in the 3.8-liter engine is its materials. Assembled using many of the same parts as those found in racing engines, it provides both high performance and long-lasting reliability. For example, the pistons are forged from a super-strong, special aluminum. The crankshaft and connecting rod are likewise manufactured from a special strengthened material. In addition, the camshaft cam profile, valve lift volume, valve springs and other parts were all originally designed for racing.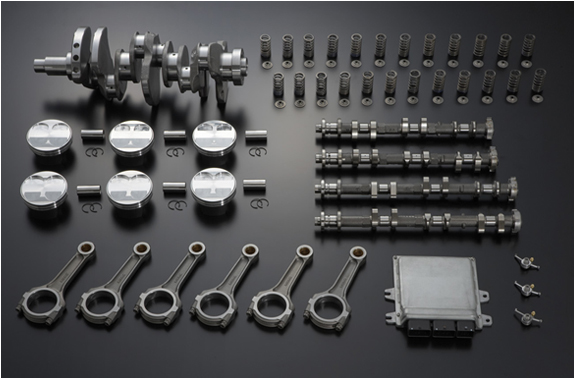 • Main parts of the 3.8-liter engine used in the 380RS
The 380RS uses a range of original parts in its engine, including crankshaft, valve springs, valve spring retainers, pistons, camshaft, connecting rod, ECM (engine control module), oil jets, and others.
* Click on any of the parts for magnified view.

The stage for testing the 3.8-liter engine was the 2006 Tokachi 24-hour Race; in it, two Fairlady Zs ended the race in top positions, proving the functionality and strengthened reliability of the engine. For several months thereafter, actual driving tests and engine bench tests using 3-axis dynometer testing and environmental test rooms were all used to develop the best street specs and tuning. The goal was to provide the potential and quality demanded in racing, and the durability for use on the street. In the 380RS, NISMO has provided both by applying its wide range of knowledge and experience, for specs including maximum output of 257kW (350PS) at 7200rpm, maximum torque of 397N•m (40.5kgm) at 4800rpm, with good low-speed torque and amazing power at high speeds.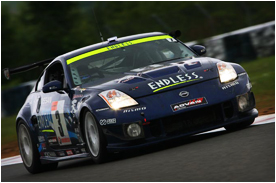 At the 2006 Tokachi 24-hour Race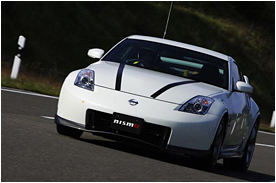 Actual drive testing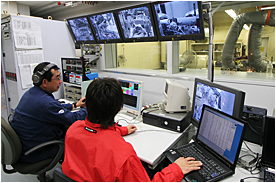 Engine bench testing