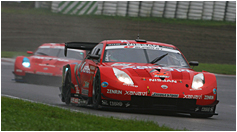 Photo:SUPER GT•GT500
The perfect balance of the driving pleasure and ease of everyday use is what captivates the Fairlady Z to it's owners. However, many of these enthusiasts aspired for a Fairlady Z that was geared more closer to the motor sports field. Since NISMO has gained inestimable experience in racing technology in Super GT and Super Taikyu racing, a real Fairlady Z that gratifies the passionate enthusiasts was thoughtfully created. A machine that embodies the true racing spirit can only be made by NISMO.
We have successfully created a Fairlady Z that can proudly wear the NISMO symbol. In 2007, the Fairlady Z had received a more powerful VQ35HR engine which enhanced the enjoyment of driving even further than its predecessor. The new Fairlady Z made its debut named as the Fairlady Z Version NISMO (Version NISMO). This creation was loaded with our knowledge and passion to produce the best performing Fairlady Z. Such qualities as a reinforced chassis, effective aerodynamic styling, and a sporty interior demonstrates the technology adopted directly from motor sports knowledge. A Fairlady Z that embodies NISMO's true motor sport spirit was created.

Further pursuing the desire of many drivers for speed, we now announce the release of the Fairlady Z Version NISMO Type 380RS (380RS). It is equipped with a de-tuned version of the Fairlady Z Version NISMO Type 380-RS-Competition (380RS-C). It's a model providing higher performance and more of the true flavor of NISMO racing technology than the Version NISMO. The 380RS has the heart of a Fairlady Z, and the spirit of NISMO. The joy of driving that you'll want to experience.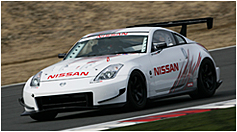 Photo:Version NISMO Type 380RS-Competition