The 380RS can be visualized as something extraordinary by its redesigned exterior including the front bumper, side sill protectors, rear bumper, and rear spoiler. Function definitely overpowers form in this case, as the aerodynamics were taken into account by acquiring data from the 2006 Tokachi 24 hour endurance race and using super computers for factual simulation. The end result was a creation that attributed superior minus-lift characteristics.
Normally when any moving vehicle is cruising at highway speeds, dynamic force is applied to the vehicle where it attempts to lift the nose off the ground. The Fairlady Z was designed with zero lift however, the 380RS was taken further by actually creating minus lift (downforce). This benefits a more stable ride during any form of driving whether cruising or high speed. Improved cornering characteristics combined with excellent tire grip and great steering response, an overall improved stability and reduced roll and pitch can be experienced.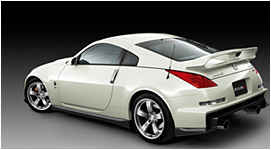 Not only does the extended 90mm front nose fascia create tremendous downforce of the machine, but like the Super GT vehicles, the incoming air is directed to the front wheel wells of the chassis. The front underspoiler effectively sends the air to the rear diffuser, and along with the dual deck rear spoiler, vehicle lift is kept at a minus level. The side sill protector enhances the sleek exterior qualities of the Fairlady Z while smoothing the air flow in the area between the front and rear wheels. The large diameter, all stainless steel muffler setup amongst other parts were designed to freely counterpart with the entire vehicle, to maintain the racing sensation in its finest form.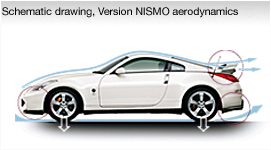 Long-nosed front bumper, large rear spoiler, and effective diffusing rear bumper all combine to create minus lift.