The 400R is a Complete Car that was developed using the R33 GT-R as a base platform. Developed after researching countless tuned vehicles, the 400R has masses of qualities than just being fast. The true excitement of operating a R33 GT-R in its finest essence has been revived. This concept has been passed on from many generations of the GT-R to its successor.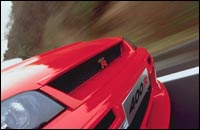 The development of this machine was primarily focused on the safety, durability, and reliability for this vehicle to be driven on public roads with complete satisfaction. The final product was a car that can adapt to any environment, even rain and poor weather conditions; if the driver can harness the techniques involved in controlling this machine.

Limited to 99 vehicles, the 400R will bring you pure enjoyment beyond anything that man has ever created.